2018 Hope and Healing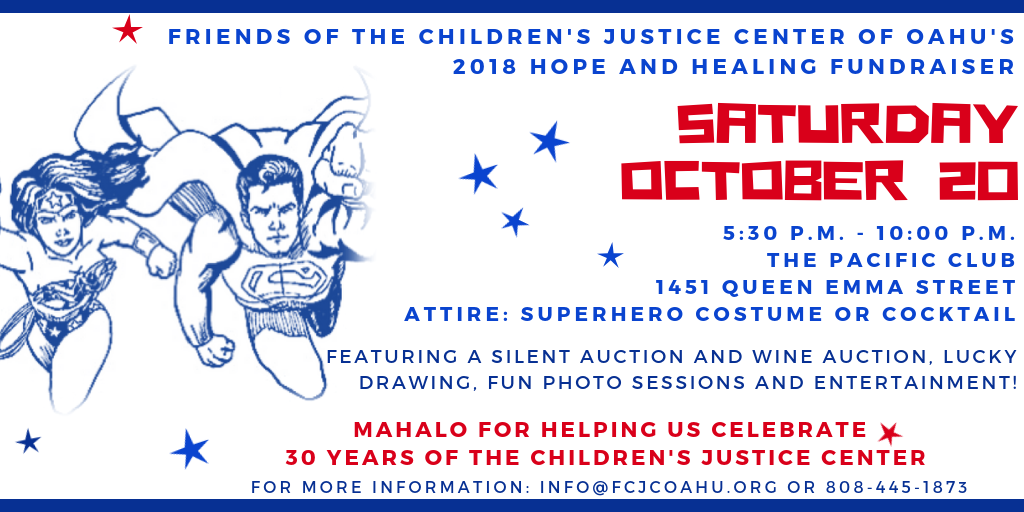 This year marks the 30th anniversary of the Children's Justice Center, 30 years of helping to find justice for our youngest and most vulnerable child victims of sexual abuse, severe physical abuse or sex-trafficking, and children who have witnessed a violent crime. In 2017, more than 1,000 child victims and witnesses, along with their family members, received CJC of O'ahu services.
We hope you'll join us in supporting these children and families by purchasing a table or making a donation for this year's Superheroes themed dinner featuring a fun evening with entertainment, a silent auction and wine auction, and a drawing for unique items each with a minimum value of $1,000:
Superheroes:  Past, Present & Future
30 years of the Children's Justice Center
October 20, 2018 at 5:30 PM
The Pacific Club
Give Aloha
FCJC Oahu is participating in Give Aloha, Foodland's Annual Community Matching Gift Program. Throughout the entire month of September, visit your local Foodland, Sack N Save or Foodland Farms and if you make a
donation to FCJC Oahu, Foodland and the Western Union Foundation will match a portion of each donation!

How to Donate:
At checkout, present your Maika'i card and let the cashier know that you would like to make a donation to Friends of the Children's Justice Center of Oahu,

code number 78789

.

Tell the cashier how much you would like to donate. Your donation will be added to your grocery purchase total.

You may donate up to $249 (any amount in excess of $249 will not be matched).

"FCJC Oahu" and your donation amount will appear on your receipt.

Donor names will not be released to FCJC Oahu, so please let us know of your gift so that we may properly acknowledge you! Give Aloha donations are tax-deductible. Ask the cashier for a duplicate receipt to submit to FCJC Oahu.
Mahalo for your consideration!